July 25, 2004
George Street Bike Challenge for Major Taylor
Worcester, Mass.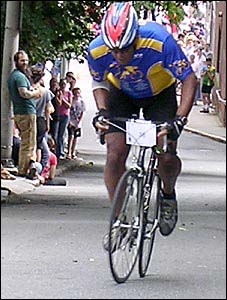 Seventy-nine cyclists, one at a time against the clock, pedaled up one of Worcester's steepest streets in the annual George Street Bike Challenge for Major Taylor. On this 500-foot quad-buster where Major Taylor used to train, the grade averages 18 percent. The 2004 time trial was the third annual George Street competition presented by Barney's Bicycle and the Seven Hills Wheelmen. Medals were awarded in various categories, and Barney's raffled off a mountain bike and other prizes. More than $5,700 was raised for the Major Taylor Association. To become an event sponsor and advertise in the souvenir program book in 2005, contact Lynne at info@majortaylorassociation.org or 508-831-0301, or call Peter Howard at Barney's, 508-799-BIKE.

2004 RESULTS

More photos

Printer-friendly event flier 2004

Kids' hill-climbing clinic (July 8 & 22, 2004)

Bike raffle 2004




In the news:

Long before Lance The Durango Herald

Climb pits local David vs. Goliath Telegram &amp Gazette

This climb Major test Sunday Telegram

Saluting the Major Worcester Magazine

Height of success Telegram &amp Gazette




2003 Results 2003 Photos

2002 Results 2002 Photos





Major Taylor
|
Statue
|
Events
|
Donations
|
News
|
Friends
|
Home
Major Taylor Association, Inc.
P.O. Box 20131
Worcester, MA 01602
info@majortaylorassociation.org
©2000 - 2016 Major Taylor Association, Inc. All rights reserved.
Web design by Tom Swenson.