Home | Greetings from Edwin Moses
Edwin Moses Biography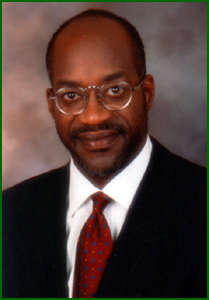 Edwin C. Moses, an Olympic champion, sports administrator and diplomat, and businessman, is one of the most respected and recognized athletes of our time. He has fully served and promoted the Olympic movement, and fostered the development of drug-free sports and the rights of amateur athletes at all levels. His experience as a distinguished Olympic champion and world record holder has earned him the esteem of the international sports community.
Moses, a physicist from Morehouse College in Atlanta, Ga., is known for utilizing the applied sciences to perfect the technical aspects of his athletic performances in his event, the 400-meter hurdles. This knowledge also enabled him to create, implement, and administer the world's most stringent random and out-of-competition testing systems for performance-enhancing drugs in sports.
Born Aug. 31, 1955, in Dayton, Ohio, as the second of three sons, Edwin began his athletic career in age group competitions and later in high school in the 180-yard low hurdles and 440-yard dash. Because of his parents' influence on him as educators, he accepted an academic scholarship in engineering from Morehouse College rather than an athletic scholarship elsewhere.
Although there was no track at Morehouse, Moses trained for the 1976 Olympic trials using the public high school facilities around Atlanta. He subsequently won the trials in the 400m hurdles with an American record of 48.30 seconds, making his first Olympic team. At the Summer Olympic Games in Montreal, Canada, he became the Olympic champion, bettering the Olympic and world records with a time of 47.63 seconds. For the next decade he dominated the hurdles, accumulating the most amazing string of consecutive victories ever amassed by an individual athlete. Over a period of nearly 10 years, from August 1977 until May 1987, Moses collected 122 straight victories.
Because of the United States' boycott of the 1980 Olympic Games in Moscow, he was denied a second golden opportunity. However, Moses took the opportunity to demonstrate his excellent form in Milan, Italy, when he smashed his second world record of 1977 with a new record time of 47.13 seconds! Three years later he lowered the mark once again, on his 28th birthday in Koblenz, West Germany, with his time of 47.02. This record remained unbroken until 1992.
In 1979, Edwin took a leave of absence from his engineering position at General Dynamics to pursue athletics full-time. On the heels of the passing of the U.S. Amateur Sports Act in Congress in 1978, he set out to improve training conditions and financial support mechanisms for American athletes. At the time, Soviet, East German, and other communist athletes were known to be heavily financed by their governments.
Determined to find a method through which U.S. athletes could generate financial support to offset training expenses and earn some income, Moses helped to persuade The Athletics Congress to advocate the liberalization of the international and Olympic eligibility rules by adopting a revolutionary concept to provide revenue through an Athletes Trust Fund program. The Trust Fund would enable athletes to create accounts administered by their respective sport bodies, within which government or privately supplied stipends, direct payments, and moneys derived from commercial endorsements could be deposited and periodically drawn from by an athlete for training and other expenses without jeopardizing their Olympic eligibility.
Moses was asked to provide a presentation to Juan Antonio Samaranch, president of the International Olympic Committee, which was both persuasive and innovative. Samaranch and the IOC commission then ratified the concept in late 1981. The Trust Fund is currently the basis of many Olympic athlete subsistence, stipend and corporate support programs, including the U.S. Olympic Committee's well funded Direct Athlete Assistance Programs.
Meanwhile, Moses continued to perform brilliantly in track and field. In 1983, he won his first world title at the first World Championships at Helsinki, Finland. One of the most shining moments of his career came one year later at the Olympic Games in Los Angeles, when he was chosen to recite the Athletes' Oath during opening ceremonies. A few days later, he reaffirmed his unparalleled sportsmanship by winning his second Olympic gold medal.
As a sports administrator, Moses is best known for his skillful and courageous directives in the development of policies against the use of performance-enhancing drugs. He recognized the disastrous effects that rampant use of performance-enhancing drugs by athletes could cast upon the sport of track and field. He also feared that continued, unchecked steroid abuse would eventually dismantle the fabric of international sports. In 1983, Moses decided to make the first major public challenge in the assault against performance-enhancing drugs in sports. Moses and other dedicated track and field athletes became pioneers in the development, administration, and implementation of the sports world's most stringent random in-competition drug testing systems.
Between 1983 and 1989, as an athlete member of The Athletics Congress, Edwin continually monitored the progress and the results of the in-competition random testing program. Although immersed in both national and international sports committee work by 1986, he found time to prepare himself for a bronze medal performance at the 1988 Seoul, Korea, Olympic Games.
In December 1988, convinced that a small minority of athletes had developed sophisticated methods to escape normal in-competition testing procedures, Mr. Moses, armed with the support of athletes, physicians, and expert scientists worldwide, created and designed amateur sports' first random out-of-competition drug testing program.
With the assistance of some of the United States' best legal scholars, and overwhelming support from The Athletic Congress, Moses and his colleagues successfully legislated and began actual testing under the unprecedented program. Edwin successfully guided the new testing program through its infancy, and the program continues to operate successfully. Many believe the deterrent effect of the out-of-competition testing program has significantly contributed to a decrease in the use of steroids in sports.
As a result of his dedication to the concept of fair play and strict drug control, he was nominated to serve as a member of the prestigious International Olympic Committee Medical Commission chaired by Prince
Alexandre de Merode of Belgium.
In addition to the well publicized programs that he has been associated with, Edwin has worked with the Special Olympics, Montana State Games, Goodwill Games, and the USOC's own Olympic Festival as well. He has also served the USOC with a delegation that lobbied U.S. members of Congress to support efforts to include a "tax check-off" on the federal income tax form and on issues related to the Unrelated Business Income Tax provisions in current legislation.
Perhaps one of the most interesting current social issues affecting the Olympic Movement is that of South Africa's return to the Olympic Family. Edwin was selected to accompany the IOC Commission on Apartheid and Olympism as an athlete representative, traveling to Johannesburg and Capetown under the leadership of Judge Keba Mbaye of Senegal and Francois Carrard, director general of the International Olympic Committee.
Recently Moses completed his studies for the Master in Business Administration in Business Management at Pepperdine University in Malibu, Calif. He was a founding partner of The Platinum Group, a management partnership that represented world-class athletes in their business endeavors. He also serves as a member of the President's Circle, an advisory group that advises the President of the National Academy of Sciences on scientific, economic and environmental policy. The President's Commission on White House Fellowships named Moses as a commissioner and selector of applicants for the White House Fellowship Program. He serves as a member of the National Criminal Justice Commission and was elected to the Executive Committee of the U.S. Olympic Committee. Moses received the ultimate honor bestowed by his sport when he was inducted into the U.S. Track and Field Hall of Fame on Dec. 3, 1994.
Moses has always been known for unselfish giving of his time and energy to many nonprofit and charitable organizations. These include the Hughes Spaulding Children's Medical Center's Edwin Moses Walk and Run; The College Fund; Special Olympics; UNICEF; 100 Black Men of America, Atlanta Chapter; and the Inner-City Games. Most recently he was elected president of the International Amateur Athletic Association, Inc., the sponsor and founder of the prestigious Jesse Owens International Trophy Award and its partner, the Jesse Owens Global Award. Notably, in December 1996 he was nominated as vice chairman and member of the board of trustees of the prestigious U.S. Olympic Foundation, the investment arm of the U.S. Olympic Committee, overseeing the management of $280 million in investment assets. He is also a trustee of the prestigious Springfield College in Springfield, Mass., where the game of basketball was invented. Moses is also a popular motivational lecturer and public speaker, sharing his successful model of success and discipline to audiences around the world.
Presently, Moses is working as a financial consultant in investment management consulting and managed money via the Consulting Group, a division of the New York-based investment bank Salomon Smith Barney. He is a registered securities agent holding Series 7, 63 and 65 licenses. He is also a scuba diver and a licensed private pilot of single-engine aircraft and holds an instrument rating.

Major Taylor
|
Statue
|
Events
|
Donations
|
News
|
Friends
|
Home
Major Taylor Association, Inc.
P.O. Box 20131
Worcester, MA 01602
info@majortaylorassociation.org
©2000 - 2002 Major Taylor Association, Inc. All rights reserved.
Web design by Tom Swenson.